The 140 Mile View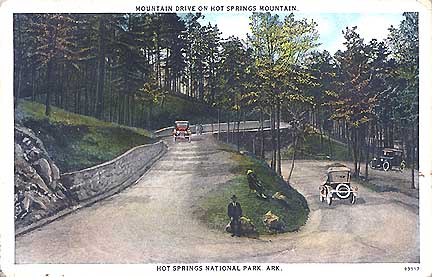 Drive up to Hot Springs Mountain Tower
postcard courtesy of Donna Smith
One of Hot Springs' most amazing tourist attractions has been present for over 125 years. The Hot Springs Mountain Tower is a landmark that was erected in 1877. The original structure, made from wood, was built by Enoch Woolman as a 75-foot observatory.
When lightning and fire destroyed that tower, a 165-foot steel was built in its place. It was named the Rix Tower, after the owner – Charles Rix who was also president of the Arkansas National Bank. This steel tower stood for over 60 years.
Early Hot Springs Mountain Tower


postcard courtesy of Donna Smith
In 1975 the tower was torn down because it was becoming unstable. In the early 1980's the Hot Springs Advertising and Promotions Commission built the current tower – a 216-foot superstructure with modern enclosed elevators and a gift shop at the base.
Although the Hot Springs Mountain Tower is owned by an arm of city government, it is considered a concession located on National Park Property. The National Park Service owns all of Hot Springs Mountain and a majority of West Mountain and Music Mountain.
Hot Springs Reservation was established by the United States Government in 1836. (now known as Hot Springs National Park) Some previous "rights" of the tower property was based on Spanish land grants that dated back to the Louisiana Purchase as far back as 1803.
When Enoch Woolman built the tower in 1877, private use of government property was "loose."
The current tower promises a breathtaking panoramic view of the Ouachita Mountains and the Diamond Lakes area.
To access the tower, turn off Central Avenue at the Arlington Hotel onto Fountain Street and follow the signs to the tower.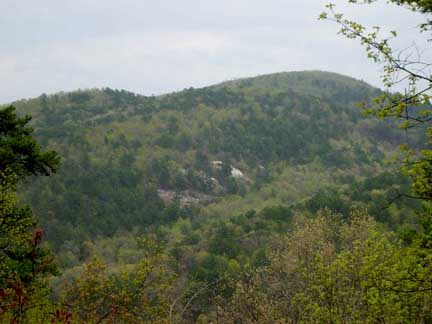 View the Novaculite Mines on Indian Mountain from the Tower base
photo courtesy of Rodney Harrell
Dr. Rando, PhD of Wit